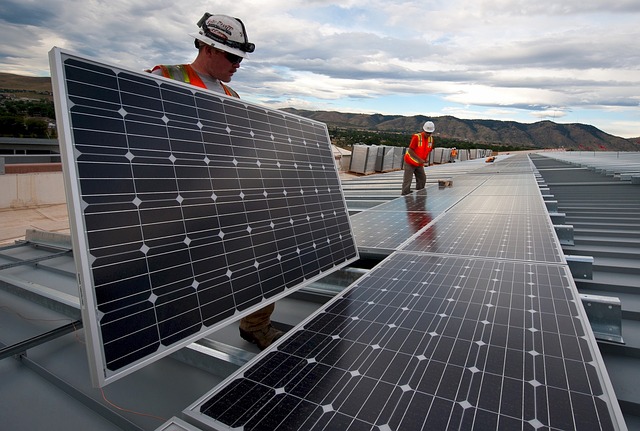 1. It's Getting More Affordable Every Year
With the looming threat of climate change and its 11-year deadline, it seems like everyone is talking about renewable energy and what we can do with it. Renewable energy is more than a buzzword these days — it's a fully formed technology that is ready and waiting for companies to take advantage of everything it has to offer. If you own a business of any size, why should you think about transitioning to renewable energy in the future?
When solar and other renewable technologies started to emerge, they were out of reach for the average consumer or business owner because of their cost. That isn't the case anymore, though. Between 2009 and 2017, the cost of producing one megawatt-hour of solar energy dropped by 86%, and it is continuing to fall. Experts predict both wind and solar energy will be at their cheapest in 2020. The next 12 months are going to be the perfect time for businesses to invest in renewable energy, as technology continues to advance and prices keep falling.
2. It's More Stable Than Fossil Fuels
The fossil fuels that generate most of the country's electricity are a finite resource. According to experts, if we continue to use fossil fuels at the current rate, we'll run out of both oil and natural gas in 50 years, and coal in 114. These estimates don't even take into account the damage burning fossil fuels does to the environment or the looming threat of climate change. Wind, solar, hydrothermal and other renewable energies are more stable than fossil fuels, and with the right technology, could potentially provide unlimited energy.
According to a study by the Department of Energy's National Renewable Energy Laboratory, the country could use renewable sources for 80% of its energy generation by 2050. Adopting it now means you're ahead of the curve.
3. You May Already Have Everything You Need to Get Started
If you've got a building with a roof, or some other open space you aren't using, you may have everything you need to start adopting renewable energy. Right now, there are nearly 2 million solar installations in the U.S. alone, and there will be twice that many by 2023. Take some time to talk to a renewable energy specialist and see what your options are for going green. The exact details of your setup will depend on things like location, space and needs, but securing a consultation will help you answer all those questions and more.
4. You'll Save Money on Utilities
Installing renewable energy technology can help you lower your monthly utility bills. The amount of money you save will depend on your needs and the size of your clean energy system, but you might be able to eliminate your power bill altogether, switching entirely to renewable options. If you produce more power than you need, you can even make back some of your initial investment by selling the excess energy back to your local power company.
5. You'll Shrink Your Carbon Footprint
Consumers are becoming more eco-conscious, and that means businesses have to do the same — taking active steps to reduce their carbon footprint and environmental impact. The proof of concept is already proving itself overseas. Greenhouse gas emissions have dropped by 7% since countries in the EU started shifting toward renewable energy. If you're worried about losing clients because you're not doing enough for the environment, renewable energy can be an invaluable tool.
Adopting Green Technology
Adopting green technolgy and renewable energy can be an expensive proposition, but it's quickly becoming a necessity. If you've been on the fence about taking the plunge, take a closer look at what renewable energy could do for your company, both now and in the future.