At Cox Enterprises, conservation is more than a corporate priority. It's a mindset we encourage every employee to adopt and apply to their lives. We're constantly looking for ways to enable, inspire and reward positive change – whether in the office, during weekend volunteer projects or when employees are home with their families. This year, we're celebrating the 10th anniversary of our Cox Conserves sustainability program, and much of our success comes from our employees' ideas and engagement.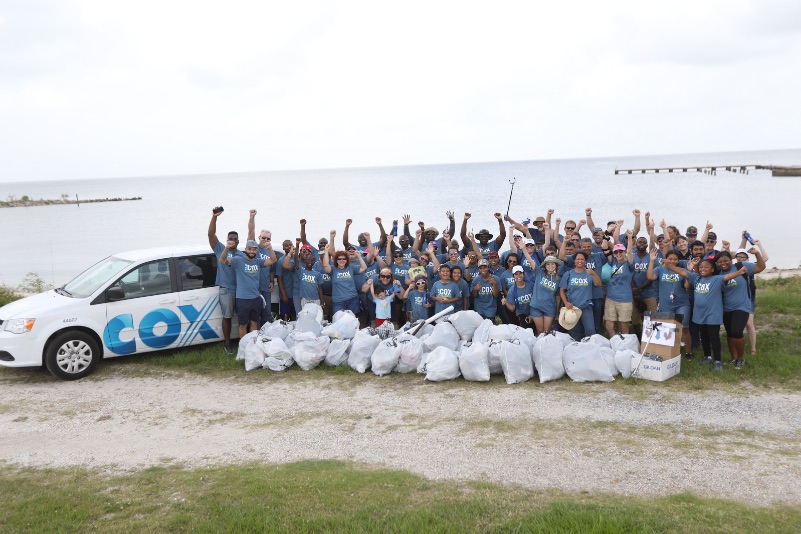 There are almost limitless ways to become greener at work and at home, but most of us often need a little education and encouragement to get started. We engage our employees through a variety of programs.
Getting Social for Sustainability
Cox Conserves and You is an employee engagement platform that promotes sustainable actions and behaviors. Its centerpiece is a fun, social website that challenges employees to take action. Participants can join campaigns and earn points and rewards for practicing recommended green behaviors, and they can comment and "like" actions by co-workers.
Within the platform, there are more than 700 environmental actions employees can undertake, from holding a virtual meeting instead of traveling to purchasing a vehicle with improved fuel economy. To date, Cox employees have completed more than 50,000 individual actions.
This year, throughout Earth Month, our senior management challenged employees to take 10,000 actions and further engage company-wide sustainable behaviors. As a result, Cox employees surpassed the initial goal of 10,000 and completed 13,837 actions. Cox Conserves & You experienced approximately 70 percent more action completions compared to the previous three months and 159 new employees registered for the platform.
Celebrating Success with the Chairman's Cup
In 2012, we introduced the Chairman's Cup – named for our Chairman Jim Kennedy – an internal recognition program that rewards locations for creating and implementing sustainable practices. One winner is chosen from each of Cox's divisions and receives a trophy and $12,500 to donate to a local environmental nonprofit of choice, provided by the James M. Cox Foundation. It's our way of capturing best practices and celebrating employees.
Taking Action with Team Cox
At Cox, giving is about more than just donations. It's about rolling up your sleeves and getting to work.
Team Cox is our enterprise-wide, employee-powered volunteer force. Every day, Team Cox volunteers from across the country and from each of our businesses make a difference in the communities where we live and work. Their hard work highlights that doing the right thing for the environment and the community is at the very core of who we are.
Team Cox volunteers show commitment to environmental stewardship by working with our national environmental partners, organizations which also are supported by Cox's corporate giving program. Through our work and support of American Rivers and Ocean Conservancy, we continue our tradition of beautifying waterways in the communities where we work and live.
Since 2010, Team Cox volunteers have picked up more than 29 tons of debris from beaches and waterways. We have held river cleanups in Atlanta, GA; Jacksonville, FL; Dayton, OH; Tulsa, OK;  Washington D.C. and Orlando, FL and beach cleanups have taken place in Irvine, CA; New Orleans, LA; and Pensacola, FL.
At Cox, our commitment to environmental sustainability is enduring and we will continue to achieve progress in the years ahead. Our 2016 Corporate Social Responsibility Report outlines our achievements as they relate to the environment, giving and people. Visit www.CoxCSRReport.com to view the complete report and learn more about our sustainability efforts, employee engagement and much more.